"Key Bee" Challenge Leverages Typing.com in a District-Wide Competition
Move over Spelling Bee, there's a new bee in town and this one's got students mastering an essential and foundational 21st century communication skill: typing. Introducing the first-ever Oklahoma City Public Schools "Key Bee," which is a multi-phase, district-wide keyboarding competition designed for grades 3-8.
We chatted with Christine Mueller, an Instructional Technology Trainer for Oklahoma City Public Schools (OKCPS) and the creator of the OKCPS Key Bee challenge, to learn more about the competition, which uses Typing.com to teach proper finger placements and techniques, practice to increase speed and accuracy, and then test the students' skills at a culminating, knock-out style championship on May 7.
Typing.com: Can you tell us more about what inspired you to arrange your district's first "Key Bee?"
Christine Mueller: The OKCPS Key Bee came about after hearing from our teachers and students about their typing struggles. Our district, like many others, has continued to introduce more technology-enabled learning, which has resulted in a strong emphasis on students being able to type with speed and accuracy to complete online assessments. The inaugural keyboarding bee is a fun way to motivate students to improve their typing skills!
How you are leveraging Typing.com for this district-wide competition?
After the initial idea for the keyboarding competition was planted, I began searching for a typing program that would combine meaningful keyboarding instruction in a fun and engaging way. Not only does Typing.com check all these boxes, it also syncs with our online gradebook and our students love the gamified approach to learning. Throughout the school year, students at our participating schools have used the program to practice and develop their keyboarding skills by working through a variety of lessons, games, and timed tests. To date, we have 6,200 students participating in grades 3-8 across 37 schools!
What are the rules of engagement in the Key Bee? Describe how you were successful in encouraging district-wide participation in the event.
I knew I had to keep the rules of the Key Bee fairly simple to encourage participation. Let's be honest, the last thing most principals want is something complicated. So the Key Bee setup couldn't be easier. The principal or a teacher entered his or her school into the contest and was provided access to everything they would need to use the Typing.com program. We advertised the Key Bee on a number of platforms, such as our website, school visits, Twitter, Instagram, Facebook, Workplace, and emails. Once teachers began using the program, we encouraged them to explore some of the nifty features such as one that allows them to make up their own lessons or tests, using vocabulary and definitions from their classroom curriculum. We found teachers really appreciated the beginner lessons that start students out right with proper fingering and the "home row" keys and then teach them progressively more complex skills such as lessons on advanced punctuation. And perhaps the most appealing component of Typing.com is its adaptive learning technology that ensures students get individualized lessons that focus on their specific trouble spots.
Right now schools are holding their own finals to pick their school champion(s). The champions are then invited to the district-wide finals by formal invitation that is delivered by an ETS team member. The feedback we are receiving has been overwhelmingly positive and the kids love it!
The finals are coming up on May 7, 2019. What can participants expect from this championship event?
The district finals will be a blast! We will have approximately 55 students qualified to participate. The event is a knock-out style championship, in which students will challenge each other in two rounds of one-minute typing tests. Their scores take into account words per minute, accuracy, and hand position. This final round will determine our champions for both grades 3-5 and 6-8. Trophies will be awarded to the first, second, and third place at both levels. We also have some wonderful gift bags filled with goodies for every participating finalist!  And, we will be joined by Rumble, the Thunder mascot, who will greet each school champion as they check in.
Tell us a bit more about your school district, student population, and use of technology-enabled learning.
Oklahoma City Public Schools (OKCPS) is a multi-cultural district serving approximately 46,000 students. We have 55 neighborhood elementary schools, 16 secondary schools, 2 alternative schools and 15 charter schools across 135.5 square miles in the center of Oklahoma.  We serve a large and diverse group that includes 35% English Language Learners and speakers of 52 different languages. In addition, 84% of our students are considered economically disadvantaged.
Every school in our district has some level of technology integration; however, we are not a 1:1 district yet. But, our use of technology is growing every day, and our Educational Technology Services team works hard to assist administration, teachers, and students with this technology integration.
As almost every industry continues to adopt different technology, many consider typing to be a fundamental skill for the 21st century. Do you agree?
No doubt, technology use has grown in every facet of our lives. I feel keyboarding is one of the most useful technology skills, but it can be easily overlooked in the ever-changing mandates of education and, until recently, was largely forgotten. For example, more of our schools are using online textbooks and education platforms, and our state just transitioned to online testing formats for students as young as the fourth grade. All of these changes have required students to become proficient in keyboarding at a much younger age than generations before. Being able to type efficiently and accurately can relieve student stress and anxiety when testing, increase language proficiency in our English language learners, improve vocabulary and spelling, and provide students with a much-needed skill for continued learning and career.
About the author: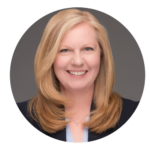 After 25 years in the band classroom, Christine Mueller joined the Educational Technology Services team at Oklahoma City Public Schools. In her new role, she enjoys assisting schools with technology integration, especially in creating events like the OKCPS Key Bee, as well as online curriculum and websites for teachers. Christine can be reached at [email protected] and on Twitter @christinemuel