Test Your Typing Speed Today!
The average typing speed is 40 WPM, though this can change dramatically depending on how you type. Find out where your typing skills stand by taking one of our typing speed tests. Whenever you complete a test, you can access and share a certificate of completion to teachers or potential employers.
Did you know the world's fastest typer can type an astonishing 256 words per minute?
There is no need to type that fast for most people, but having a sufficient typing speed can put you leaps and bounds ahead of the rest. 
Many use the 'hunt and peck' method, typing with two fingers and looking at the keyboard as they go. This results in an average typing speed of just 27 WPM—almost half the average WPM of a proficient touch typist. For those in the workforce—even though many jobs do not explicitly require typing skills—they are needed for most office work, and without the proper knowledge, you can fall behind the rest. 
At Typing.com, we offer one, three, and five-minute tests for you to gauge your current speed or to track your progress! How fast can you go? Let us know in the comments!
1 Minute Typing Test
5 Minute Typing Test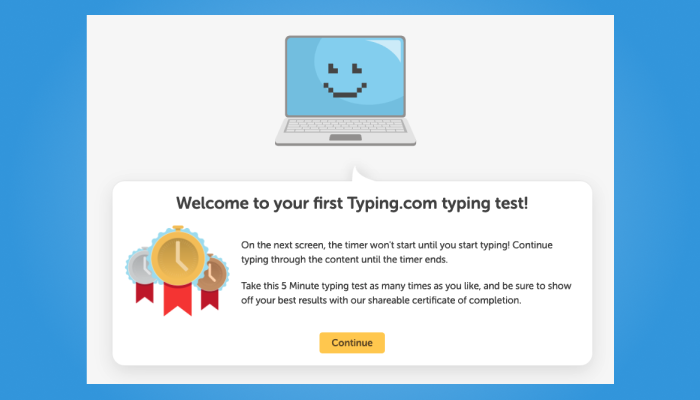 Still have questions?
We're building Typing.com to make it as easy and effective as possible to learn the critical skill of keyboarding. It's flexible and fun! 
Try it for yourself right now by logging in here.
If you still have questions, don't hesitate to check out our support articles by clicking here.