New Feature: Assignments! (and much more)
Amidst the disruption and uncertainty related to the novel coronavirus (COVID-19), Typing.com knows how important online education is. As always, we're committed to providing the best free platform for students to learn foundational technology skills. To make that easier to do in a distance-learning environment, we've just released some new features that will make it easier to assign, track and grade work done on Typing.com. Teachers can now assign a scope of work that appears directly on their student's Typing.com dashboards! Let's dive into the details…
Assignments
You can assign any of the following assignments to your students:
Typing Lessons – Assign students one or more of our standard curriculum typing lessons, or any of your custom lessons. Students receive credit when all the assigned lessons or speed typing tests are complete
Digital Literacy Lessons – Assign one or more of our great Digital Literacy lessons, including: Computer Basics, Internet Basics and Career Prep
Typing Assessments – Assign one or more timed, page-length or custom assessment
Written Prompts –We know standardized test preparation is very important, and getting students to practice their typing in a non-prescribed format is key. That's why we've created the brand new "written prompt" screen type that allows students to write, format, and submit a response to a prompt that you submit for them. Take a closer below: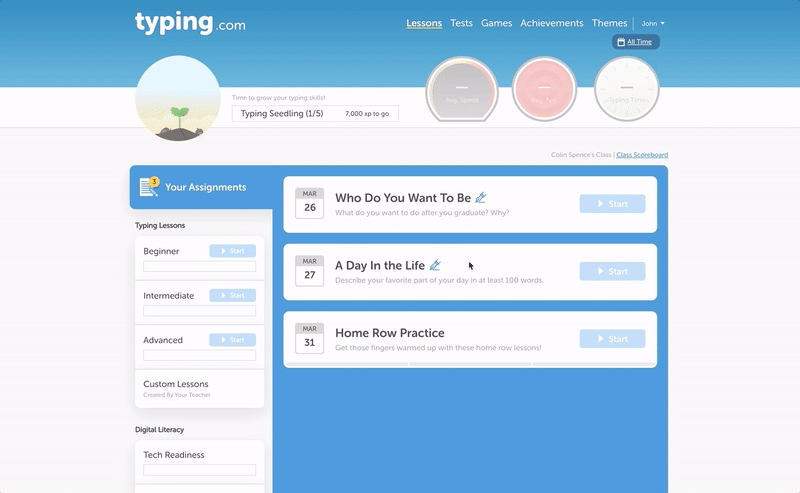 You can create the assignments in the new "Assignments" tab found on your class page.
If you're using Google Classroom with Typing.com, you'll be pleased to hear that we support integration with Google Classroom.
You can include as many lessons in an assignment as you'd like, and you'll have the ability to select exactly the class or students that you want to assign to. You can also set a due date.
When your students log in, they will see the assignments tab above their unit panel on the left of the lessons screen. On the right, all of their incomplete assignments will be visible.
To check the status of the assignments, simply navigate back to the assignment tab and click "View" next to the assignment. This will display a list of all of the students who have been assigned with this assignment and an indicator of their status on the assignment. You can also find all of a student's assignments in the Student > Assignments section.
Grading
Typing.com does even more of the work for you now so you can focus on teaching. In your class's settings, you can now set grading thresholds based on typing lessons, tests, and digital literacy lessons! As your students complete their lessons, tests, and assignments, see their grades automatically update in their progress section.
Log in now and take a look at these new additions. We would love to hear your feedback in the comments!