Unleash the Power of Personalized Learning with Our Premium Edition
Provide your students with an ad-free learning environment and a robust curriculum, all while streamlining your grading and tracking their progress with ease, thanks to assignable lessons, customizable thresholds and more!
Compare Plans
Start your journey with a plan tailored for you.



Grade-based lessons, tests, and games
Test prep, creative writing and coding units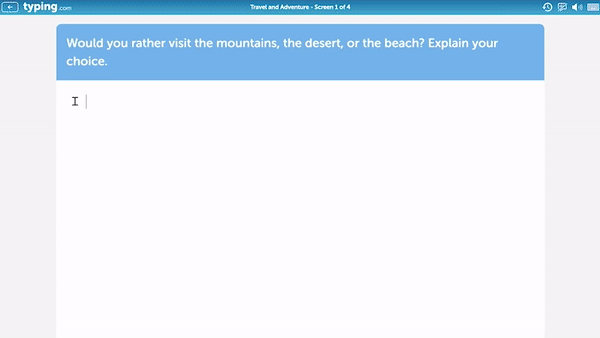 Access Premium-only test prep, creative writing, and coding units to give students additional practice in building ELA and tech skills
Yes
100% Ad-free
Save bandwidth and keep students focused with an ad-free experience
70 day data retention
Unlimited data retention
Unlimited data retention to maintain valuable historical student data and reports
Classroom level settings only
Classroom and student settings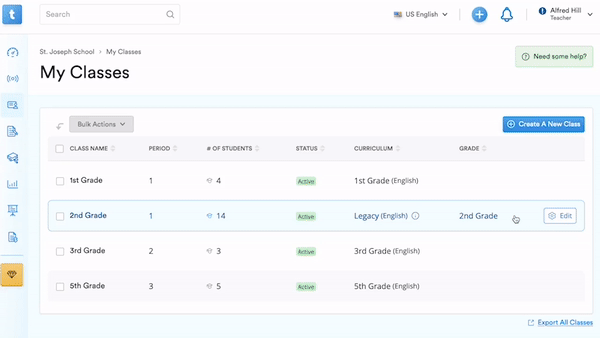 Customizable settings for each of your student gives you full control to build individualized education programs (IEP) in Typing.com
-
Assign lessons, tests and games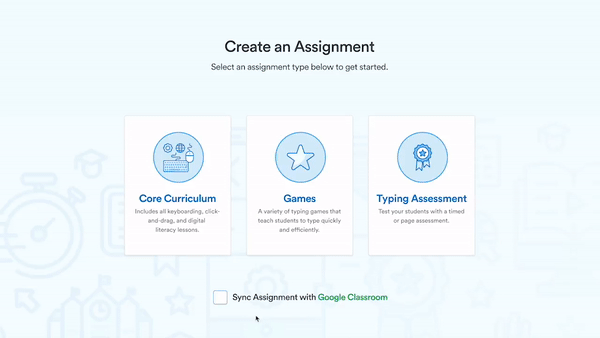 Assign lessons, tests and games to your class or individual students, then track student completion. Sync assignments with Google Classroom for a deeper integration
-
Dedicated account management
Enjoy personalized support, efficient setup, and expert advice
Real-time Student Monitor
-
Live student activity and progress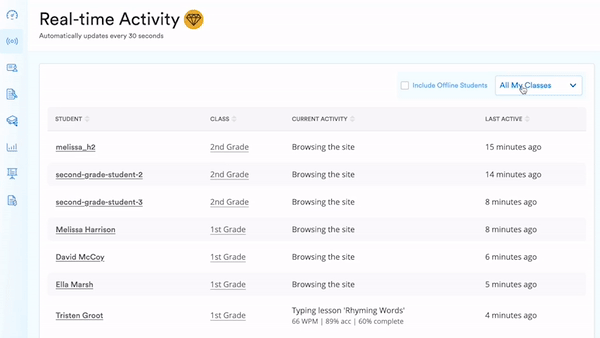 Effortlessly track student engagement in real-time, offering valuable insights for ensuring consistent class participation
-
Auto grading thresholds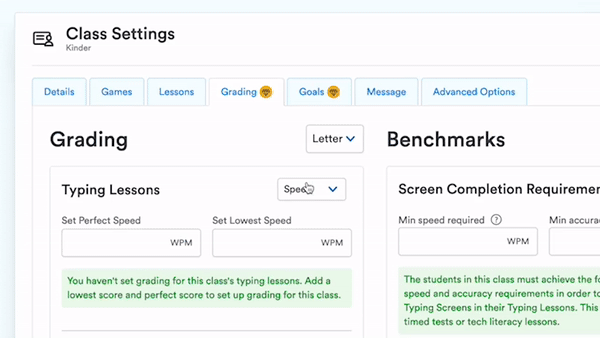 Set customizable grading thresholds to significantly reduce time spent grading
-
Customized benchmarking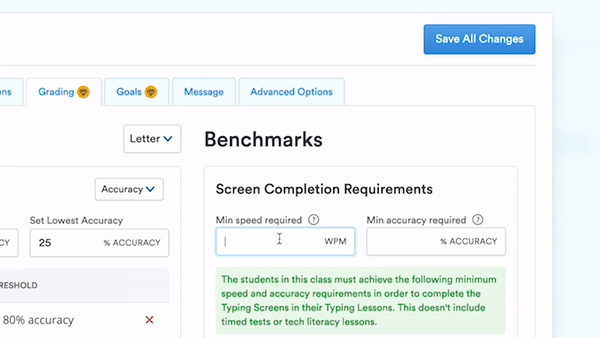 Control lesson progression with customizable speed and accuracy minimums
-
Daily practice time goals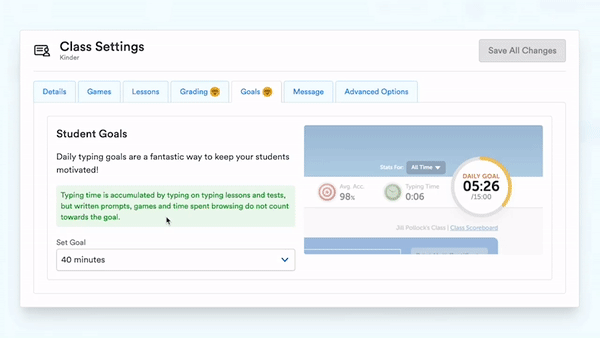 Encourage students to increase their time spent practicing typing by setting daily practice time goals
Email only
Priority phone and email support
Get guaranteed first-response phone and email support Monday thru Friday
Free Edition vs. Premium Edition
Ofrece más simplicidad y organización por tan solo $1.37 por estudiante.
Free Edition
Everything you need to get started with Typing.com with ads

Más información
Grade-based lessons, tests, and games
70 day data retention
Classroom settings only
Sync with Google Classroom
Supercharge your experience with an AD FREE Typing.com account


Programa una Demostración
Acceda a unidades de codificación y escritura creativa solo, las cuales son solo premium, para brindar a los estudiantes práctica adicional en el desarrollo de habilidades tecnológicas y de ELA (Artes del Lenguaje Inglés)
Ahorre ancho de banda y mantenga a los estudiantes completamente concentrados con una experiencia sin anuncios
Acceda a valiosos datos históricos y extraiga informes utilizando cualquier marco de tiempo (la versión gratuita limita los datos a 70 días)
La configuración del nivel del estudiante permite programas de educación individualizados (IEP)
Control detallado del progreso de los estudiantes con lecciones, pruebas y juegos asignables
El monitor de estudiantes en tiempo real brinda a los maestros una vista rápida del progreso y la actividad de los estudiantes
Ahorre tiempo calificando con límites personalizables de velocidad y precisión
Controle la progresión de la lección con mínimos personalizables de velocidad y precisión
Anime a los estudiantes a aumentar el tiempo que pasan practicando mecanografía al establecer objetivos de tiempo de práctica diarios.
Los asientos se asignan automáticamente cuando los estudiantes inician sesión y se pueden liberar fácilmente para otros estudiantes en cualquier momento
Obtenga un pase de primera línea cada vez que tenga preguntas o necesite soporte técnico
Hear It from Our Users and Discover Premium Edition's Impact



Frequently Asked Questions
Can't find the answer to your question below?
Try our Support page.
What additional learning resources are available exclusively in the Premium Edition?
The Premium Edition of Typing.com includes access to exclusive games and customizable lesson plans, enabling users to tailor their learning experience to their individual needs. Premium users also receive access to additional typing practice materials, advanced performance reports, and priority customer support.
How much does the Premium Edition cost and are there any available discounts for students, teachers, or bulk subscriptions?
The cost of Typing.com's Premium Edition varies based on the type of subscription (individual, classroom, school-wide or district-wide) and the duration of the subscription.
What are the main benefits of the Typing.com Premium Edition compared to the Free Edition?
Typing.com Premium Edition offers several key benefits compared to the Free Edition, including an ad-free learning environment, access to exclusive games, advanced progress tracking and performance reports, customizable lesson plans to suit individual needs, and priority customer support.
Can I access Premium Edition from multiple devices, and will my progress be synced?
Absolutely! You can access Typing.com Premium Edition from any device. All your progress and performance metrics will be saved and synced across devices.
How can teachers or administrators monitor student progress and performance?
Typing.com Premium Edition includes advanced progress tracking and reporting features. Teachers can monitor their students' typing speed, accuracy, and progress through the curriculum at a glance. Detailed reports can be generated to provide insights into individual student performance or overall class progress. This can be particularly useful for identifying students who may need additional assistance or challenge.
Upgrade to Typing.com Premium Edition Today!
Unlock the full potential of your typing journey with the Premium Edition of Typing.com! Experience a comprehensive and engaging learning environment designed to help your students master their typing skills faster and more efficiently.